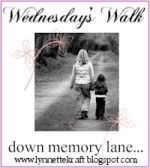 If you would like to join other bloggers on this Wednesday walk, visit
Lynnette's
site for all the details.
I am doing this as a Wednesday's walk because this is a fresh memory that will linger for many years in my spirit. Oh, my friends, I am fully wrecked at this moment. I cannot yet say it is in a good way. However, I firmly believe in Romans 8:28! It says "ALL THINGS"!!!
A gentleman and his young son were found dead Friday morning in a park that my girls and I love to visit. They were members of our church, and even though we did not know them, we chose to stand with the body of Christ and attend the funeral yesterday.
Here is the link to the news story:
Deaths at Ranch 111
Now, for my thoughts.
We did not personally know this family. We have only been a part of the same church since December and since Brody was his oldest child, we never had the opportunity for our paths to cross. Today, I am thankful for that.
I simply cannot fathom the hopelessness that would lead a father to take his son's life and then his own. Only God knows what was going on the in waning hours of Matt Knapp's life.
I listened intently as Matt's testimony of leading so many people to Christ was shared; first by his boyhood pastor that is now a staff member of our church, then as his brother shared his unique views of Matt's life, and lastly by our pastor who has known Mr. Knapp for a couple of years and watched him leading the young boys in Bible study faithfully on Wednesday nights.
Someone very close to me once attempted to take her own life. Even though it has been many years ago, I have found myself drawn back to memories of that time as God redeemed her precious life and has given her many more years to praise His name and live for Him. I would not have thought it possible, but I am even more thankful now that God spared her life than I have ever been.
The church was full....standing room only, truly. I know each one of us was comforted by the words of Mr. Knapp's boyhood pastor when he said, "Don't judge a whole life by the one act that ended it."
Romans 8:37-39
37.No, in all these things we are more than conquerors through him who loved us.
38.
For I am convinced that neither death nor life, neither angels nor demons, neither the present nor the future, nor any powers,
39.neither height nor depth, nor anything else in all creation, will be able to separate us from the love of God that is in Christ Jesus our Lord.
I will choose to hug my babies a bit closer tonight. I will choose to be thankful for the precious husband God has given me. I will choose to love. I will choose to follow Christ.
What is your choice?
Praise God from whom
all
blessings flow....
God's girl, Pamela
PS If you have time, please read my previous post about my daughter's unexpected award given at her public school for her faith ! Thank you.