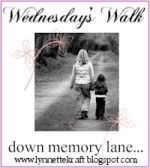 If you would like to join other bloggers on this Wednesday walk, visit
Lynnette's
site for all the details.
My parents are blessed with 5 grandchildren and 2 great-grandchildren! Of those 7 children born to me, my sister and my niece, two of them are boys! Yes, only 2!!!
The oldest of those boys, RB, was born on the Ides of March my sophomore year of high school, while we were studying Julius Ceasar!!! I thought that was so cool! It has always made it easy to remember his birthday...even if I do want to forget just how many years have passed since then!
The youngest of those boys is brand new to this world! He turned one week old yesterday! Congratulations to my precious niece on adding to her family!!!
Various circumstances have led to the fact that I haven't really shared much of life with either of these young men. It has sometimes been a hard lesson to learn that what we expect out of life is not what we always get! I would have loved to have had a relationship with RB, my nephew, since day one...but now, I will take what I can get. Realizing it takes both of us to communicate but only one of us to close that door, I pray that this time, I won't be the one to close the door.
So, a couple of years ago RB and a couple of his friends came down to visit with his Mom for a few days. I'm glad he brought along friends because down here, hubs is the only male in the family....and he was busy working that week! I cannot imagine what it must look like when all 5 of us girls are together - laughing, giggling, making high pitched noises!!!! I can imagine even less what it would be like to be an only male in that group!!!
We ate lots of food...'cause that's what you do with family!, played Dance Dance Revolution until we could not breathe, and stayed up way too late! But we had fun! One evening, RB and I decided to go for a drive and see other parts of our fair city that he had not yet visited. We came to an open field that is used for motor biking and mudding on the weekends , across the street from one of mine and Sissy's childhood homes . The field had really deep ruts all around and it leads to a creek bed...where my Sissy and I played as children!
It was just the two of us out in that field...an opportunity for a memory! Even though he was in his young 20's, he was still such a kid at heart out there in the middle of nowhere! He was trying to pretend to be tearing down trees with this little branch that he found on the ground! He was talking of making a fire and fixing up whatever he caught on his hunt that day! He was re-living boyhood moments...with me!
I have been privileged to raise two girls. They have their own fantasies..about princes and dresses and forts made with sheets and pillows. And while I have also been a teacher, I've not spent much actual playtime with boys...I simply don't know how they operate! I saw that night as a memory-making time with the boy that I never had the opportunity to know!
Isn't it neat how God gives us special moments...especially when we aren't looking for them? Redemption for a lost relationship. Redemption at the foot of the cross.
I heard from RB recently. I know he needs prayer. I know God is holding him tightly!
Praise God from whom all blessings flow.....
God's girl, Pamela
PS...I love to receive your comments. I would also love to visit your blogs. Miss PD makes it impossible to spend time on the computer so it may take awhile before I actually get to visiting yours. Thank you for your patience! Thank you for visiting!