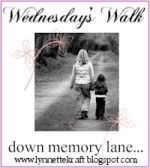 If you would like to join other bloggers on this Wednesday walk, visit
Lynnette's
site for all the details.
This will be a short memory post...but a terrific memory it is!!!
The day we have looked forward to for 14 yrs, we held her back a year to mature a bit in 1st grade, and it went by in a flash...just like those 14 yrs feel!
Only one fly in the ointment....THEY SAID MY DAUGHTER'S NAME WRONG!!!! I will admit, she has a bit of an unusual name...but not unheard of. There is also a Hispanic way to say her name - and that is what they did!!! I was MAD!!! MAD, I say!
As y'all know, we love this school!!! They have very rarely said her name wrong! On the most important day of high school, the end, they mess it up! Oh, my!!!
Her former Chemistry teacher was sitting next to me and trying to console me by saying how many names they were messing up. It didn't help...only made me madder for those young people and their families, too!!!
My niece was chuckling at me afterwards telling me that I didn't even clap for CD as she walked across the stage! Apparently, I was too stunned and just sat there saying, "Are you kidding me?" I can see that of myself!
Okay....putting that to rest.....
She graduated #41 in her class of over 470!!! She graduated with honors, a 3.6 GPA, and a Texas Scholar!!! She's my daughter and I am so proud of her and her accomplishment!
The choir sang for the very last time - it is a tradition for them to sing "From Sea to Shining Sea" at graduation. When they finished the song, there were lots of hugs given and even though we weren't close enough to see, I'm sure there were more tears shed.
Now, life moves on. We still have one in high school - she will be a sophomore next year. I'm not sure if life will slow down or not....when something ends, it always seems we find something to fill up that time!
CD's plans are to attend a local community college for a while. She is still seeking exactly the path God would have her to take. Would you please partner in prayer with our family as we seek His face? For the summer, she has her last camper year at youth camp to look forward to and her mission trip to Columbia, which is all paid for!!!
Sorry this does seem rushed...gotta get other stuff done around the house before Miss PD comes!!!
I am definitely one very proud Momma!!!
Praise God from whom ALL blessings flow....like children!
God's girl, Pamela