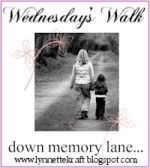 If you would like to join other bloggers on this Wednesday walk, visit
Lynnette's
site for all the details.
Today we are celebrating his birthday for the 23rd time together!!! WOW!!! That makes us sound a little bit old, huh??? YIKES!!!
Today's memory is of that very first shared birthday...his 18th! Man, we thought we were hot stuff! I also don't have too many memories of that evening.
I, unfortunately, don't have any pics of that birthday...this one is pretty close to it when we went to Six Flags that summer.
We went to dinner that evening with his parents and Grandmother to a restaurant off of Stemmons Frwy...Mother Tucker's. Does anyone remember this one? The food was really good....that I do remember well!!!
We had only been dating a few months but already realized we were falling in love, and those around us knew it! Just a couple of months after this, we literally began talking about our future...together!
My gift to him that evening? Why 18 kisses, of course! Too bad he hasn't let me continue that tradition for many years - something about how it would take too long!
I love birthdays and my desire is that everyone notice and make a big to-do on my special day! However, oppisites do attract and his desire is for the day to pass quietly and shared by only those closest to him. So today, that is what I am trying to do...this is my big to-do for the day!!!
To my dear hubs...I love you. You are such a precious part of me and I am privileged to be your wife and share in your daily life. I pray today that you will be blessed and that in the year ahead, you will continue to seek God's will for your life, family and business.
Praise God from whom all blessings flow....like my wonderful 41 yr old husband!!!
God's girl, Pamela