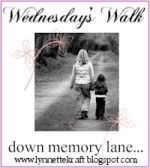 If you would like to join other bloggers on this Wednesday walk, visit
Lynnette's
site for all the details.
This post seems perfect for a Wednesday's Walk and even though I originally posted late Sunday so that my CD could read it before she headed off to school, I really wanted to share it with y'all. Hope you enjoy and have a terrific week ahead!
Praise God from whom all blessings flow...
God's girl, Pamela
Ps 139:17,18a How precious to me are your thoughts, O God! How vast is the sum of them! Were I to count them, they would outnumber the grains of sand....
My heart is overwhelmed! So many memories of you growing up right in front of my eyes! I am such a blessed Mom to have spent my days with you as part of them for the last 19 yrs!
I cannot wrap my brain around the fact that you start college in less than 12 hrs! Your graduation day seems like such a dream - did it really happen already??? If I allow myself, I can remember the first few moments of your life and lots of moments between then and now.
Your very first day of school....Bethel Temple Mountaintop, El Paso, TX.
A very difficult move from El Paso to Dallas just a few months later.
Kindergarten graduation from GCA....and GrandMom came to watch!
Your struggle starting first grade at GCA. We decided to keep you home the 2nd semester and that was when you came down with chicken pox....and passed them to Bunny.
Your first day at Ethridge Elementary....my first day of public school - ever!
Soccer!
The very consistent 100's on your elementary report cards - man, my child is smart!
The move we made to BNCS for 4th grade....you were excited, but unsure. I'm sorry, that may not have been the best move for you.
Upwards basketball!
The tears through 6th grade...once again, I'm sorry!
Seventh and eighth grade at Webb.....and uniforms!
Basketball!!!! Basketball!!!
Freshman year at North Garland: choir and basketball!!!
The biology trip to Denison with Mrs. Hess...and that lovely centipede!
Sophomore year: Miss Harvey and how she began to shape your life for the future!
Junior year.....that was a hard year!
Senior - choir, lack of basketball and watching God change your heart and mind! New church, new friends, new outlook!
Now, all of a sudden, you are going to college! For the first time in 14 yrs, we won't all go together to drop you off for the first day of school! I know that God has His gentle hand upon your life! I know your Spanglish is going to drive me crazy for a few months!
I know that I have been blessed to do my best to "raise you in the nurture and admonition" of the Lord. I know that I have failed many times but God always reaches down to pull me back up and try again!
I love you and am praying that your first day in your new normal is blessed by the God of the universe in unbelievable ways!
Mom