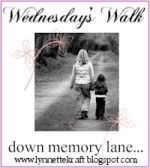 These were my words 23 yrs ago tomorrow! I was trying my best to get my Daddy to let me go to the Sports Banquet with a young man from school...but not from our church. And therein lies the rub!
Here's the Story:
GCA's home church,
Lavon Drive Bapt.
We were a little more than two months from high school graduation. We had turned in our term papers, knew who our top two graduates were, had all of our money for our senior trip to Grand Canyon, AZ. We were ready to blow the joint!
Until,
On Wednesday morn, March 19, 1986, I walked into my homeroom in which my teacher was a friend of the family. Miss H called me up to her desk and my best friend came up with me...for moral support, of course! Miss H told my BF that she needed to speak with me alone. UH OH! This could not be good, could it? I was sure I had done everything right, I am a people pleaser after all!
Once my BF had walked away, Miss H asked me if I had plans on going to the annual Sports Banquet in April. My answer, 'No'...short, sweet and to the point. I had never gone to the banquet, why would I want to go this year??
She then proceeded to tell me that a boy in the school, not in our class, wanted to ask me to go with him to the Sports Banquet. Okay, curiosity is peaked but who in this little school would want to go to the Banquet with me?
And then, she said his name!
Um, NO!!!! Not happening!
The rest of the conversation went something like this:
Miss H, "Why not?"
Me, "Well, I'm not going to the banquet, I don't care who asks me."
Miss H, "You know, I have yet to grade your term paper?"
Me, "Is this a bribe?"
Miss H, "No, not at all!"
Me, "Okay, fine, I'll ask my Dad and I'm pretty sure he will say no!"
I started going to GCA in the seventh grade. About my freshman year I made the statement that I would never date a guy from GCA....I went to church with many of them and knew them way too well!!! And here we were, two months away from graduation and I'm seriously considering asking my Dad if I can go to the banquet with the 'nerd of the school'...yes, the whole school, y'all!!!
I wrote a note to this young man, telling him that I would need to talk it over with my Dad but I would ask if I could attend the banquet with him. I had Word Processing 7th period and I knew he had Computer Science 6th period. I also knew that his computer was right behind the one that I sat at. Oh, perfect!
All through my 6th period class, choir, I had butterflies! What was I doing even considering this??? I just knew that EVERYONE would laugh at me for going out with him...especially to a school sponsored banquet! This guy never said more than two words to ANYONE and then they had something to do with computers!
The one thing I will never forget was the smile on this kid's face when I handed him my note! It truly lit up the room and I don't remember ever having seen him smile in the whole 6 yrs I had been at GCA! As you have probably figured out, I soon fell absolutely in love with that smile...and the young man behind it!
Back to my story....I went home that night and before my Dad could ever even get home, my suitor was calling me! I told him my Dad was not yet home and he would need to call back later. But, he wanted to TALK...more than the customary two words!
I started thinking maybe he wasn't as 'weird' as we all thought he was. By the time my Dad got home, I was okay with asking if I could go to the banquet with him. Sure enough, though, my Dad made a point of the fact that he went to a church with different beliefs than ours. Christians, yes, but more along the lines of charismatic.
And at some point during this conversation, in my best little girl, "Daddy, PLEASE" voice, I said, "But, Dad, it's only one date!" And this is where my Daddy gave in!
By the time I graduated from high school, we were a couple! By the next September, when he began his senior year at GCA, we knew we wanted to eventually get married!
Y'all know the rest of the story.....although, there are a lot of chapters left to be written by the hand of God! And I hope you will share this journey with us!
Be sure to drop by
Lynnette's
blog for more awesome memories and maybe even post one of your own.
Praise God from whom all blessings flow....
God's girl, Pamela