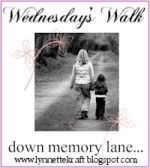 If you want to join us on a walk down memory lane, please visit
Lynnette's
blog to join in the fun!
Now, to share my letter to a friend.
Dear Colleen,
I've taken too long to write this letter and for that, please accept my apology. You played a very important role in my life 18 yrs ago and for that, I will always be grateful! Now, you are never far from my mind as I cannot even imagine the pain you walk in each day.
I was a very young Mom and still learning the ropes of being a wife when we met in February '91 in Grovetown, Georgia. John had befriended dear hubs while in training at Ft. Gordon and within a matter of weeks, DD1 and I had made the unexpected move from Dallas to Georgia. Just like God, He gave me the neighbor that I needed for that season in my life - YOU!
I remember about a week after we met, you asked if I was a Christian. Our conversation ultimately led to me attending church with you. I was raised in a Christian home, attended and graduated from a Christian school - where I met my groom - but had grown apart from the Lord in our two years of marriage. I was already feeling the tug of the Holy Spirit to draw close to Him, and introduce my precious daughter to His love; you happened to be the catalyst for putting my life back on His track.
Your friendship was exactly what I needed in the coming months, as my Mom endured a difficult medical trial that brought me back to Texas for a month. You cried with me when I sat outside after dinner with Mom and Dad, where Mom had gone to put the ice cubes in the glasses but when we sat down, there were no ice cubes in the glasses...they were all stacked neatly on top of the ice tray in the freezer still!
You were the one to first cut DD1's hair, those really long strands that continued to fall in her face. You taught me the value of play as the three of y'all, dear hubs, you and John, ran around the trailers squirting one another with water out of syrup bottles...or whatever you could find handy to hold water!!!
Then, as soon as you came into my life, you moved on...to Kansas. I never forgot you, or the fact that you were the main reason I was back serving our Lord and Savior. I also never forgot Morgan. Her beautiful blonde hair, her precious smile and the adorable way that she asked you for mie-rk....her special way of saying milk!
Life moved on....I talked to you from our next duty station, Ft. Bragg, shortly after Logan was born, if I remember correctly. Then, we lost contact with each other. But, I never forgot you, or Morgan.
What do I remember about that September day? That dear hubs was in the field, had only left a couple of days earlier and was due out for at least 30 days, and the girls and I had gone to do some shopping at Wal-Mart in El Paso. DD1 had just started Kindergarten and Bunny would be two in a few weeks.
It was September, 1995. I'm walking out of Wal-Mart, DD1 walking in front of the buggy and Bunny sat in the buggy seat. I knew that Wal-Mart posted pictures of missing children but it was something that I only rarely noticed. As I pushed the buggy past the board that day, though, I noticed and I stopped immediately!!!
The smile was unmistakeable, the name sent chills through every part of me...Morgan Chauntel Nick. I had always loved her middle name, never realizing it would be there one day for all the world to see.
For the sake of time, I want to mention that you can read all of Morgan's story at
this website
. She was taken from a baseball game in June 1995, and the story has not ended.
Oh, my friend. I've held my babies tighter and made sure to keep them in sight...they can testify to this and it has NOT made them happy! I simply cannot imagine the pain that your heart feels each day as you awake to this reality. I cannot fathom how you have raised two precious children in the midst of your pain...I think I would hole away until the world righted itself!
You have been so brave, to introduce legislation and speak to so many high up in business and politics. Your love for Morgan has been channeled into helping other families in similar situations. You have never let go of hope!
Thank you, for being willing to speak into my life that February day...DD1 is now a leader in her school and youth group. People know where she stands in accordance with her faith. Bunny is growing in Christ...the teenage years have not been easy for her but she is learning more each day about walking with her Savior.
DD1 gave her heart to the Lord in 1999 and Bunny this past January. Our marriage has seen struggles, but with the grace of God, we have survived and thrived. This is only one of the crowns that you can lay at the feet of Jesus when that day comes. Because of your testimony, we are a family of Christ followers!
Your sister in Christ,
Pamela