Update at end of post....
What a way to start a memory post, huh? If you would like to share a memory, or just read other's memories, pop over to Lynnette's blog to join in the fun!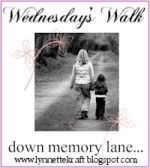 I know I've been away for a couple of weeks but life has just really been...well, life! I did start a post earlier in the week but when I looked back over it, the post did not qualify for BYKOTA! So, I'm back for the moment with an embarrassing memory.
Those of you that have followed my blog for a while may remember our financial struggles during last summer. God has been faithful and somehow provision has come...even when we don't see it. We are still behind on several bills but there is beginning to be some light at the end of this tunnel and with God's grace, we will make it through.
Well, one of the consequences of running out of money was that the inspection on my mini-van expired in August - the same month that Miss PD's Mom lost her job thereby causing me to lose my job. The same week that I began babysitting her again in November, I was pulled over by a constable who couldn't help but notice my expired inspection sticker as he drove past me.
Now, the hard part is that this is only like the 3rd time I have been stopped by a policeman in the 22 yrs I have been driving! The first time was for going just a bit over the speed limit (5 mph) and that was in the first five years of having my license. The second was about 7 yrs ago on my way to school, when a policeman pulled me over for not fully coming to a stop at the 4-way stop in our neighborhood.
Those first two times, I was quickly on my way with a warning to slow down and a warning to make sure I completely stopped.
The third time, though, was not the charm....this time he issued me a ticket! Since we've not had the money just lying around to pay the darned thing, a court date was set for today...this morning at 8:30 CST. We are praying that we will be able to at least start a payment plan, if not get the price of the ticket lowered.
So, if you are reading this on Wednesday morn, would you please say a prayer for me and for the judge. I want it to be fair, I really do but my first ticket in 22 yrs of driving???
I know that one day, this memory will probably make us laugh...but it is not right now! My stomach is an absolute bundle of nerves, and that is okay because even Jesus had a moment of fear as He prayed in the Garden of Gethsemane and He cares about my fears, too.
"Lord, not my will but Yours be done"
Praise God from whom all blessings flow....
God's girl, Pamela
God is so good...ALL THE TIME!!! As I said, this was my first court date and come to find it was only a pre-trial hearing. I didn't even have to mumble 3 words to the DA because I laid the inspection receipt, dated the same day of the ticket, on the table in front of him. I was only charged 1/10 of what the fine would have been if I had so desperately wanted to avoid this date that I went ahead and paid the ticket!!! 10% - as in a tithe!!!! Ain't our God so good???? He knows our financial situation so well that He stretched our faith - and nerves! - and took care of 90% of the ticket!!!
I know this is the same that any other person would go through but it just feels so good to give the glory back to my Savior because He orchestrated every move to this point. Someone in my family has learned a lesson in humility, someone has learned a lesson in submitting to a husband (a-hemm!!!) and we have both learned to lean on God even more!!!!
God is SO good, thank Him for the blessings of life!!!