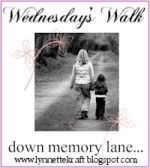 I am unable to post a new blog today. I had a memory in mind to share with you, my fellow walkers, but I'm just not able.
If you've not had the opportunity, please read my follow up piece to my Morgan story.
I know that God is GREAT...have you read
MckMama's
post today?
Also, be watching closely! Do y'all remember my friend, Jill's sister-in-law,
Melanie
from around October? Well, she will be sharing her testimony at her home church on Easter Sunday and hopefully, the video will be available shortly after to share with y'all!
God is doing amazing things!!! I can't wait to see what His mighty hand is working in our lives at this time. Please pray for us...there is too much to share. No one is dying...thank you, Lord, but situations are coming up one by one that we must face head on with God's help and HEAL as a family!
Time is short....I must close.
Praise God from whom ALL blessings flow...yes, I believe
God's girl, Pamela