Update: Reading through some of your comments has made me giggle. I did not give a time line for this memory...I'm sorry! DD1, the daughter in this post, has just started her last semester of high school!!! That makes this walk a bit more special for me...time has flown by!
Thank you for your sweet comments, I always say she is God's child 'cause I could not do such a good job!!! (that goes for both of them, BTW!)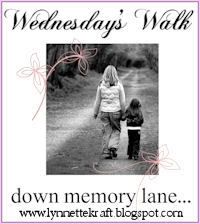 Let me first apologize for not getting this out sooner...my computer has not been much of a friend today!!! Either my internet has not been connected or our filtering service has been having issues or both, depending on what time I tried to sit down and post!!!
But, I am on now and ready to share a memory and let you choose if you would like to help a very special 7 yr old make a memory of his own!
DD1 has always had a very generous spirit...ALWAYS!!! I clearly remember one Sunday after her birthday, her babysitter handed her a one dollar bill and told her to buy something special. Notice, it was Sunday and it was right before church started. My precious DD1 had just turned 4! We headed into the sanctuary and she is holding tightly to the dollar bill. I offer to put it away but she will not hear of it!!! She holds it close during all of worship...never putting it down!
When the ushers began to walk to the front, I realized that she is getting excited and it dawns on me what she has planned. Of course, being the perfect Mom I am, I don't say anything....YAH, RIGHT!!! The conversation went something like this:
"Honey, do you really want to put in your whole birthday present?"
"Yes"
"Sweetheart, are you sure? If you do that, you won't be able to buy something special like Miss Kari told you to."
"I know, Mommy."
Of course, it did not take me long to realize that I would not change her mind. She put her new dollar bill into the offering plate as it passed by! Then she looked at me with an absolutely huge grin!!! I know I was wrong in trying to change her mind, but that made it even sweeter when I felt God say to me that He was so proud of her!!!
When we made the move to Dallas, hubs work was in an area close to the smaller airport and home to several panhandlers. Anytime that the child had any money at all on her person and we were headed to Daddy's work, she would take it just in case we saw a homeless person. Many times, she would roll down her passenger side window and give away the last of her money! She would always flash the person a huge smile that I know made their day....it sure made mine!
She has taught me so much about giving up my life as I walk this human road. She totally gives away whatever she has...and sometimes that is just her! Her generous spirit is always looking for someone to bless...even in a small way. This afternoon, she wrapped up a very pretty package and inside was a Hershey Cookies and Cream bar for her new friend at our new church! She purchased the candy bar with her Christmas Wal-Mart gift card!
Today, I learned of another special child that is wanting to bless someone in his life. His name is Micah and he is the oldest son of DD1's 5th grade Science and History teacher. Click over to his Mom's
blog
to find out just how you can help Micah be a blessing - and create his very own special memory.
Thank you for being patient today and for taking the time to read about my family. I pray that you will be blessed and be a blessing to someone around you!
Praise God from whom all blessings flow.....
God's girl, Pamela