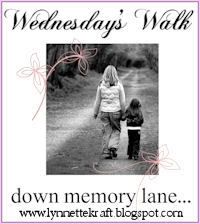 Take a walk with me down memory lane....it starts with a 20 yr old about to get married -
It wasn't unusual to receive a gift through the mail, several of our friends (my parents and mine) lived out of town. What was unusual was to receive a gift from a courier...especially when we lived so far out in the country! I didn't think couriers even knew our place existed!!! So, on a very cold day, I answered the knock at the door and stood staring at the poor man for just a moment too long. He asked if it was my name on the delivery tag....yeah, that was me. He went to his truck and retrieved this HUGE package and as he got closer to the porch, I noticed the package is a basket. A huge white basket. And it was full of stuff!!! Kitchen stuff! What bride would not be excited to see all kinds of kitchen stuff in a package with her name on it???
I quickly signed the paper...yes, it was still paper back then, no e-signatures - we didn't even know what those were - and ran inside to see who it could be from. It was from a friend of mine in NC that had been married just since the previous February. I felt so special to receive such a gift...it was personal and thought out. I'm sure still being a new bride herself it made it easier to put something together but I also knew her crazy schedule and it took some time to put this gift together!
So, I didn't even open up to make sure all the contents were there...it had an inventory list on the envelope. At that point, we knew we were going to West Germany before setting up a house so I saw no need to undo a perfectly wrapped package! Plus, it looked beautiful to my eyes just sitting on my bedroom floor! That was in December.
Those months from December to May were so difficult...we were married, yet still lived apart. He was still in training so had to live on post and I saw no need to leave my family any earlier because it really isn't that far from Dallas to Lawton.
So, in May, I packed up and left my family. The basket and all my other possessions that didn't fit in the two large suitcases, hanging bag and carry on bag that I took with me, would be picked up and moved for me courtesy of the US Army! When my travel orders came, I had one month to pack up and get ready to go meet my hubs overseas. However, that was too fast for the movers, they came the day after I left. Selfish me, I never considered how my Mom felt about that....your daughter moves out one day and the very next, her whole life has been erased from the house. I chose to stay at home after high school to save money, so I had not been away from home, until then!
While it only took me 16 hrs to make the trip overseas, it took our household goods 7 weeks!!! There were many wedding gifts that hubs had never even seen because he lived in OK and the basket was one of those. Being a man, he could not understand my shrieks when I opened the box and realized the ONLY thing in it was my basket of kitchen goodies!!! I finally got to open my kitchen basket over July 4 weekend, 1989! A full 6 mo after signing for it.
So, now that you know how important that basket is to me, would it surprise you that it sits to this day in my entryway? But, you may be asking, what does that have to do with pine cones???
Well, I once had little girls! My little girls are not unlike other children that when as toddlers we went for a walk, they wanted to take everything they had picked up in the house with them! And boy, could they pick stuff up!!!
We moved back to the states in Jan '91 and since hubs had to retrain, we had our household goods stored until we moved into our next permanent duty station - Ft. Bragg, NC. The basket sat empty in our new place until Autumn of '91 when DD1 discovered pine cones falling from the trees that surrounded our apartment!!! These were not little pine cones...they were MASSIVE!!! For several days, she was okay with carrying them up to our porch and leaving them there...until she realized they were no longer on the porch the next day!!! So, I knew I had to find a place to put her pine cones...and the basket was my only option! It was big enough to hold several and with a pretty bow, would look lovely in the doorway...pine cones and all.
The basket held about 10 of those pine cones...although that meant one or two would always fall out when you passed by it! Money was horribly tight that Christmas, so I used the pine cones to make Christmas trees for our family...by purchasing small trinkets and floral stems at the dime store. Even after that, we still had pine cones in the basket...and in the yard!!! Yes, I let DD1 bring in even more pine cones!
In the next couple of months, we moved from that apartment to a town home on post...not surrounded by pine cones! However, I still loved the look of my basket with the bow....cheap decorating by design!!! The basket and the pine cones stayed with us.
By the next Christmas, we were stationed at Ft. Bliss, TX....the least blissful place in America! It's in the desert, y'all!!! Sand, rock, tumbleweed and cactus!!! But my pine cones reminded me of prettier places! And still look good in their basket!!!
Our lives changed drastically over the next 18 mo....we had added another girl to the household, and moved again into on-post housing. And wouldn't ya know it, right behind our fence line was a pine tree!!! Seriously, standing against the desert wind was a pine tree!!! Not as expansive as the ones in NC, but a pine tree none the less!
That meant that once again, we were bringing things home that had been picked up on our walk...including pine cones. Smaller pine cones but still pine cones! I thought then how special that I have a similar memory from both of my girls as toddlers. It was a God thing...I'm sure!
I remember these little bitty people picking up a pine cone and dropping it right away because it hurt! Oh, but curiosity finally won out and they would pick it up again and slowly examine all the parts and pieces! The ones DD1 had collected were nearly as big as she was! Bunny's were more along her size and sometimes easier to handle because they had not opened all the way. Then, as the basket began to overflow, they would sit for quiet moments and DD1 would tell Bunny the story behind many of them....what we had done on that particular walk, where we had gone. I never worried about whether it was right or not, it was nice for me to see them sit quietly and tell a story between themselves. Oh, precious memories!!!
We moved back to Dallas when Bunny was 2 1/2 so we still took nature walks...and wouldn't ya know it, we almost always passed a pine tree. The last pine cone I remember being collected was in the neighborhood where we now live. Bunny was about four and DD1 was in school. Bunny and I were walking past this really tall pine tree and there was one little scrawny pine cone lying beneath it...and she just had to have it! All I saw was a scrawny little thing, she saw beauty! She won, we brought it home and added it to our collection. It still sits on top of the others!
Unfortunately, some of the pine cones are submitting to age and beginning to break down into a form of mulch...but I will always have my memories!!! And, I will always have my basket! We've picked up pine cones several times as the dog would try to chew on them, or the baby I was watching at any particular time! They have lived in seven homes with us now. The oldest and largest was picked up 17 yrs ago, the newest, just eleven. The memories, though, will last forever!
I'm sorry this is so long! I really did not start out to write a book!!!
Praise God from whom all blessings flow.....like baskets and pine cones and precious daughters!
God's girl, Pamela