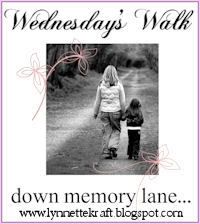 I told you we had a family date to go look at the stars, well we did! Go look at the stars, that is. It was a bit chilly standing up on the hill but beautiful! In fact, we have a few memories from that little hill.
You see, in the Dallas area, they have man-made lakes. This particular one was made in the late 60's and I remember going swimming there with my Mom, sister and little brother way back when. (in the 70's!) On one side of the lake, there is also a Baptist encampment and I have been to that a few times as well. But the little hill is closer to our house than either the swimming beach or the camp, and still close enough to the 'country' to be dark enough to see the stars!
The little hill is close to the dam so water can be at all different levels on the other side of the hill from the road...you really never know how much water you will see till you crest the hill. We went and stood on the hill, surveying just how dry the lake was a few years back during a drought. We went back out a few months later, during a heavy spring rain to see just how full it was getting. We've gone there just to look out at the water during the cold months...dreaming of warmer days ahead yet dreading 100 degree days ahead!
So, Friday night, we went to the little hill to look at the stars! Boy, were they sure bright! There were no clouds in the sky and even though I don't know all the names of the star formations, dear hubs is always willing to share his knowledge with the girls...and we could see lots of formations! Venus was also shining very bright near the western horizon and there was a crescent moon just beginning it's descent.
We didn't stay too long, the wind made it really cold standing out in the open and that close to the water...the shore looked to be about 20 ft from where we were standing.(about normal) Just being together, able to laugh at something funny, to be there to help someone down the little hill, to learn all the different formations that are a very small part of His creation. To think that God knows each star by name, and we could only see a few of them!!! Those are the memories I carry away.
All too soon, my children will leave our home and begin to make their own memories. All too soon. I don't ever want to stop making memories together, just adding people to the group....men who love God and are sold out, children learning from their parents and grand-parents.
Praise God from whom all blessings flow...family and memories!
God's girl, Pamela
Don't forget to pop over to
Lynnette's
blog to view more special memories.